Ever dreamed of listening to the lilting sounds of the ocean, and waking up to the splendour of the universe? Come to Tanjong Piai, a natural wonderland at the southernmost tip of Asia.
It's like being transported to a different era, far way from the respite of city-life. Frolic with wide-eyed mudskippers, funny macaques, wild birds and much more!
Located 90km south of Johor Bahru's city centre, Tanjung Piai's natural wonders have been gazzetted into a National Park. Visitors can see different habitats here, especially for enthusiasts interested in mangrove dwelling.
Mangroves, important for their resilience, are also one of the maintstays to sustainable growth of the various mangrove wildlife. It also serves to protect land from the fierce onslaught of the wild sea.
Make sure to bring good walking shoes, to enjoy the beautiful mangroves. Platforms are built through the park so visitors can walk around in comfort.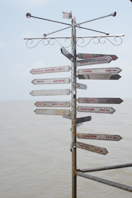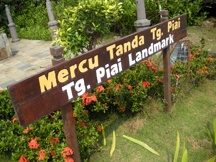 When in Johor, come visit exotic Tanjung Piai National Park.
Entrance fees are RM3 for Malaysians and RM5 for foreign visitors. These entry fees are payable at Tanjung Piai's visitors' complex.
Updated: Aug'2010
Created:
Aug'2010
Source:
Malaysia Tourism Promotion Board
Reference: http://www.tourism.gov.my