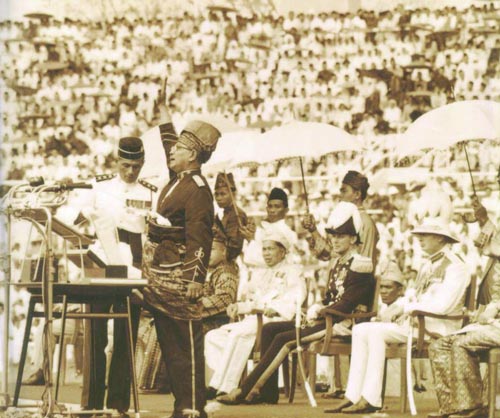 Hari Merdeka
Hari Merdeka (Independence Day) is a national day of Malaysia commemorating the independence of the Federation of Malaya from British colonial rule, celebrated on August 31. In a wider context, it is to celebrate the formation of Malaysia.
Malaya Independence
The effort for independence was spearheaded by Tunku Abdul Rahman, the first Prime Minister of Malaysia, who led a delegation of ministers and political leaders of Malaya in negotiations with the British in London for Merdeka, or independence along with the first president of the 
Malayan Chinese Association (MCA) Tun Dato Sir Tan Cheng Lock and fifth President of Malaysian Indian Congress Tun V.T. Sambanthan. 
Once it became increasingly clear that the Communist threat posed during the Malayan Emergency was petering out, agreement was reached on February 8, 1956, for Malaya to gain independence from the British Empire. 
However, for a number of logistical and administrative reasons, it was decided that the official proclamation of independence would only be made the next year, on August 31, 1957, at Stadium Merdeka (Independence Stadium), in Kuala Lumpur.

The formation of Malaysia
The Federation of Malaysia, comprising the States of Malaya, North Borneo (later renamed Sabah), Sarawak and Singapore was to be officially declared on the date August 31, 1963, on the 6th anniversary of Malayan independence. However, it was postponed to September 16, 1963, 
mainly due to Indonesian and the Philippines' opposition to the formation of Malaysia. Nevertheless, North Borneo and Singapore declared sovereignty on August 31, 1963. Indonesian opposition later 
escalated to a military conflict. Indonesia considered Malaysia as a new form of colonization on the provinces of Sarawak and Sabah in the island of Borneo (bordering Kalimantan, Indonesia), which they laid claim on. To assure Indonesia that Malaysia was not a form of neo-colonialism, 
a referendum, organized by the United Nations, and the Cobbold Commission, led by Lord Cobbold, were formed to determine whether the people of Sabah and Sarawak wished to join Malaysia. 
Their eventual findings which indicated substantial support for Malaysia among the peoples of Sabah and Sarawak, cleared the way for the final proclamation of Malaysia.
The formation of the Federation of Malaysia was then announced on September 16, 1963 as
Malaysia Day. The nationwide Independence Day celebration is still held on August 31, the original independence date of Malaya, while Malaysia Day is a public holiday only in East Malaysia.
However, this has caused some minor discontent among East Malaysians in particular since it has been argued that celebrating the national day on August 31 is too Malaya-centric.
In 2009,it was decided that starting 2010, Malaysia Day would be a nationwide public holiday in addition to Hari Merdeka on August 31.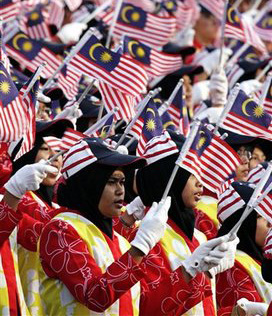 Updated: March'11
Created:
March'11
Source:
wikipedia & malaysia831.
Reference: www.malaysia831.com